Pergolas combine an open architecture with permanent stability to create a pleasant and attractive extension of your home.  In general, pergolas are open-walled structures based on four beams and a lattice or grid roof.  Modern pergolas can also be constructed using the exterior walls and roofline of a home to serve as one or more sides for the structure while removable or retractable pergola covers provide additional shade.
Why choose a pergola?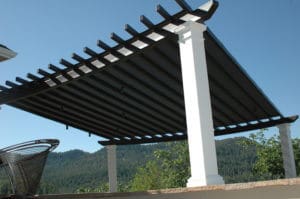 Pergolas often serve as the focal point in a beautifully landscaped yard.  Hardscaped pathways can be designed to lead guests to congregate under the shelter while enjoying a relaxing afternoon together in the garden.  Here are just a few of the benefits homeowners enjoy from their pergolas:
Versatility.  Homeowners can choose from a number of construction materials such as wood, vinyl, and aluminum.  Each material comes with its own pros and cons allowing the homeowner to custom design a structure perfect for their area.  Lattice roofs offer partial protection from the sun, while owners can install additional removable or retractable pergola covers (or "sails") for more complete protection.  Overall dimensions can be as large or as small as the owner desires.
Beauty.  Homeowners can design these structures as reflections of their personal style.  Whether featuring hanging baskets, climbing vines, or modern-industrial posts, the sky's the limit in creating an outdoor space that compliments both the home's exterior and landscaping.  With accent lighting, the structure becomes a stunning focal point in the evening and allows for extended hours of enjoyment.
Value.  By adding outdoor living space, these structures build value for the home.  In conjunction with other landscaping investments, homeowners can realize higher valuations when they sell their homes down the road.
Definition.  Pergolas provide a designated gathering and entertaining space for family and friends.  Whether providing cover for casual seating, table, and chairs, or an outdoor kitchen, these structures create a "room" in the yard with purpose.
Shade and Privacy.  Some homeowners enjoy the very open design of pergolas with no walls and simple lattice roofing that provides modest shade from the sun.  Others add more protection and privacy with bamboo plants, trailing vines, cloth sails or curtains, and a removable or retractable pergola cover.
Ready to design a new outdoor pergola cover for your home?
Our professional team at Deluxe Awnings is ready to turn your dreams into reality.  We'll discuss how you want to use your space, what your landscape and home's exterior are like, and help you determine the right type of awning or pergola cover for your home.  Let's get started today and you'll be enjoying a relaxing afternoon in your new space in no time!