Relaxing on the deck or sun porch can be a fantastic way to extend your living space and get some fresh air, but the hot rays from the sun often get in the way.  Or perhaps you find the sun glare coming through the windows of your home is just too much.  Fixed solar screens can add shade to any area, from the interior rooms of your home to the sunny side of your deck, without blocking the view of the outdoors.
What is a fixed solar screen?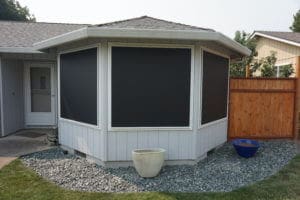 Our solar screens are fixed panels installed to the exterior of your home's windows, affixed to sliding glass doors, or attached to exterior structures such as decks and fences.  The screens are specially designed to reduce heat from the sun, decrease UV damage, and prevent glare.  At the same time, the screens allow good visibility, much like wearing a pair of quality sunglasses.
How do they work?
Unlike regular window or door screens, the screen fibers of these panels are round and refract light.  This diffuses and reduces the intensity of the sun's rays.  Two factors will determine the amount of sunlight absorbed, reflected, or allowed to move through the screens:  how dense the weave is and the color of the material itself.
Weave density is described by an "openness factor," which is the amount of area open to allow light through and can range from 1% to 25%.  Lower percentages mean more light is blocked, resulting in greater shade and protection.
Screens are available in a variety of colors to match the exterior design of your home.  Darker colors absorb more light and will provide more protection from the sun.
Do they require professional installation?
For the best fit, it's best to work with a professional team who will measure your windows and manufacture the right-sized coverings for your home.  For alternative areas like decks or fences, this team can design the proper structure to hold the solar screens appropriately.  Once initially installed, most solar screens can be removed and re-installed by the homeowner; however, some screens may be too high or inaccessible and require professional removal.
If you're battling the intense rays from the sun, Deluxe Awning can help!
Since 1982, our small family business in Ashland, Oregon, has been providing quality fixed solar screens for residential and commercial buildings.  We'll work with you to custom design a unit that will best meet your needs.  We're committed to providing you the best possible value and unparalleled quality.
Contact Deluxe Awning today to learn how easy it is to add fixed solar screens to your home or business.