Commercial awnings are not only functional; they provide aesthetic appeal, extend brand recognition, and maintain a historically accurate appearance for the structure.  By replacing or adding exterior awnings to doors and windows, you could help your building's exterior look as it would have in its original days.  Many cities offer façade improvement programs to provide funding to commercial properties within designated zones to perform exterior renovations, including awning installation or upgrade.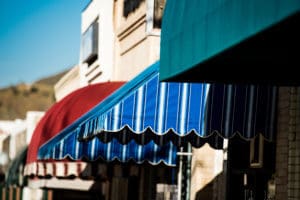 Awnings are essential historical features of buildings.  In fact, there are records showing building structures dated as far back as ancient Egypt and Syria featuring awnings constructed of woven mats.  Retractable fabric awnings were often used in the Roman empire to shelter seating areas in amphitheaters and stadiums.  As time progressed, the use of awnings became more prevalent.  One visit to your local museum will likely feature prints of stores and factories with eye-catching and functional awnings.
Several cities in Oregon are introducing façade improvement plans to bring back the original look and feel of commercial buildings in their historic areas.  For example, the City of Central Point, Oregon, promotes their "Downtown & East Pine Street Corridor Revitalization Plan."  The plan is part of the urban renewal efforts coordinated by the City of Central Point designed to rehabilitate and restore commercial building façades within a designated downtown zone.
Businesses located within the designated area may be eligible for a loan between $1,000 and $10,000 to pay for qualifying work, including:
Awnings (except plastic or metal),
Exterior lighting;
Replacement of historic features;
Improvements to commercial street-level storefronts, including painting and repair/replacement of storefront windows and doors; and
Repainting
A second "Historic Building Façade Grant Program" works similarly; however, the funds do not need to be repaid.
Contact your local municipal development office if you're curious about local loans or grant money that may help you add or replace awnings to your building.  At the same time, they can provide you with valuable information you may need for obtaining the required permits for exterior improvements.
If you're considering a commercial awning for your business, contact our team at Deluxe Awning Company.
We're proud to be a local business serving our community since 1982.  Over the years, Deluxe Awning Company has grown to become an area leader in home and commercial awnings.  We believe in personalized service and putting our customers first.  No matter how large or small your project is, you can rest assured you'll receive full attention from our professional team.  Contact us today to see how easy it is to get started.