Now that the holidays are past us, many people are starting to plan Spring projects, including improvements to their outdoor living spaces.  If you're dreaming about creating an area that's inviting, relaxing, and functional, here are a few ideas to add to your list.
Top Trends for Outdoor Living in 2022
Blending the outdoors with the indoors.  You've seen them on popular home renovation television shows: colossal glass patio doors that open so wide the wall disappears, or side-by-side French doors to lessen the divide between a room and a patio.  Homeowners are looking for innovative ways to remove barriers and make the transition from indoors to outdoors as natural as the walk from the kitchen to the living room.
Focus on outdoor furniture and decor.  This isn't a new trend, but one that's gaining momentum.  Homeowners are now investing almost as much money in furniture, appliances, and decor for their outdoor living spaces as they do for their indoor family rooms and kitchens.  Creating a well-coordinated and comfortable setting encourages your family and guests to enjoy the outdoors.
Add lighting.  If your entire outdoor space is illuminated by one light fixture next to your back door, it's time to add some fixtures.  Lighting fixtures and outdoor fans increase the functionality of your living space, enhance the safety and security of your home, and create the perfect ambiance for rest and relaxation.  It's a good idea to consider all the electrical features you may want to add within the next few years because if you need to hire an electrician, you'll want to get the most bang for your buck.
Bring entertainment outdoors.  Whether you enjoy listening to jazz while eating dinner on the deck, or you want to have your buddies over to watch a game while barbecuing, it's easy to bring sound and video to the exterior of your home.  Shop for products specifically designed for outdoor installation and use, and ensure any internet or technical requirements match the networking setup of your home.
Give the exterior a natural facelift.  It's common for homeowners to want to change the color of their home's exterior, but now they are also adding natural wood and stone accents.  Changing trim around doors and windows, installing new railings and decking, adding stone accents along the bottom portion of walls, and replacing the front door are just some of the ways homeowners are updating the look of their homes.
No matter how you decide to renovate your home, adding a retractable awning is a must-have for your list!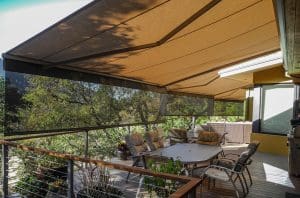 Retractable awnings are beautiful and functional.  With the flip of a switch, homeowners can enjoy an evening under the stars or sit outside during a light rainstorm.  With retractable awnings, you get the best of both worlds–avoiding the sun and heat during the summer while allowing the sun to stream into your windows as the temperatures cool down.
Plus, today's retractable awnings come in a wide variety of fabrics to match the exterior look and feel of your home.  At Deluxe Awning, we custom-produce all of our awnings using high-quality fabric that will stand the test of time.
Adding a retractable awning to your home is easy–all you have to do is give us a call at 541-488-1575.  Our experienced team members will visit your home or business to help you decide on the right awning for your needs.  Professional installers will ensure your awning is attached to your home securely, so you'll be able to sit back and enjoy the outdoors for years to come.  You'll wonder why you've waited so long.