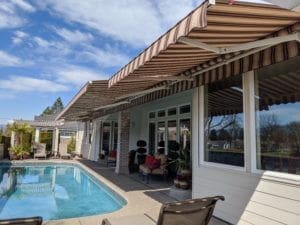 One of the best parts of living in Southern Oregon is being able to enjoy relatively temperate climates throughout the year.  Although we do have our share of snowfall and raging heat from time to time, most of the year allows for some degree of enjoying the outdoors.  Adding a retractable awning to your home is an easy way to broaden your options for spending time outside and enjoying some fresh air.
Here are just some of the benefits of adding a retractable awning to your home:
It's easy to adjust to changes in the weather.  Once you've settled in for a relaxing outdoor brunch or just got the whole family outside to enjoy the day, the last thing you want to do is move inside because of a few sprinkles or unanticipated direct sun.  Simply open up the awning and you're protected for whatever type of weather the day brings.
Enjoy an economical way to add additional living space to your home.  One of the main reasons people don't take advantage of their outdoor areas is because of lack of shelter from sun and rain.  Adding a retractable awning instantly provides you with a sheltered space outdoors and makes your overall home feel larger.
They are simple to install.  While you will want to have professionals install your retractable awning, they can be placed almost anywhere with minimal construction (or destruction) to the exterior of your home.  This provides you with a limitless opportunity to increase the functionality of just about any outdoor area around your home.
Today's selections compliment the look and feel of your home.  Homeowners can select from a variety of sizes to best fit their outdoor locations and needs.  A wide variety of fabrics creates variety to either make the awning a focal point or to blend it with the home's exterior colors and design.
The value of your home increases.  With more ways to enjoy the outdoors, your home has more value in the event you decide to sell.  By selecting a high-quality product, buyers can be assured of the continued operation of the feature for many years to come.
When you're ready to explore the opportunity of adding space and comfort to your outdoors, contact Deluxe Awning Company.  As a small family business that's been in operation since 1982, we're committed to providing you with individualized service to design the perfect custom awning for your location.  Competitive prices, personal service, and custom construction all come together to make your outdoors the living space of your dreams.