With summer coming in full swing, you may feel slightly stifled when it comes to what you can and cannot do in your residence, especially when it comes to your patio. In summer, your patio may be underutilized because of the heat, because you feel it's just too hot out, but with the inclusion of a retractable awning, it can be utilized all year round. Not only can they protect you and your house from heat, but they can do so much more when it comes to increasing the longevity of numerous household appliances. Here are just a few benefits when it comes to installing a retractable awning this summer.
Protect Your Outdoor Furnishings – Patio furniture is built to withstand weather conditions, but prolonged exposure to extreme temperatures can wear them down, fade them of color, and completely change the feel of your original exterior design. With a retractable awning, you can begin to add furnishings that could be considered unsafe for outdoor weather, knowing that it can shield them from elements, and most importantly, the sun!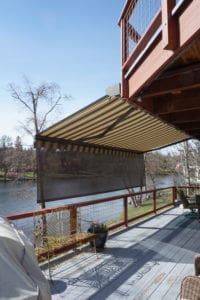 It's Your Choice – Choosing to install a retractable awning gives you a unique versatility when it comes to deciding how you want to choose how to spend your day outdoors. You can retract or extend your awning to your desires, limiting how much sun you want and how little shade depending on what activity you're performing. This can come in handy when entertaining those who like it hot or a little on the cooler side.
Broaden Your Entertaining Space! – With the summer season comes lots of evening dinners, midday brunches and the need for extra space. By installing an awning, you can move the company outside and keep them content in the weather. With the added luxury of including more furniture outside, you can now expand or essentially add a new living space for yourself and make it a lounging area for you and company.
Reduce Energy Costs that come with Summer Heat! – Outside rays of sun can be absorbed through windows and can drastically increase the temperature inside your home, and with that increase in heat comes with the cranking up of the AC unit. Installing an awning can save you up to 23% on your annual AC costs due to the reduction of direct solar heat. With an awning installed, your AC unit won't have to work as hard leading to it working more efficiently for a longer
How do you select a fixed or retractable awning for your home?
The best way to add a retractable awning to your home is by contacting the professional team at Deluxe Awning Company.  We're a small family business that's been serving Southern Oregon since 1982.  From residential homes to large commercial buildings, our quality-crafted awnings protect local residents from sun, rain, snow, and hail throughout the region.  Our team will come to your home to assess your needs and provide recommendations to meet your design style and budget.  Give us a call or visit us in Ashland to get started creating your perfect outdoor space.