Southern Oregon is filled with majestic views of mountains, hillsides flanked with vineyards, and crystal blue river valleys amidst evergreen forests.  With all this natural beauty surrounding us, it only makes sense to optimize the views by extending your business outdoors.  Whether you own a tiny cafe or a full-fledged event center, providing more flexibility with a retractable awning for outdoor seating and enjoyment is sure to add sales to your bottom line.
Say goodbye to the tent!
Over the past several years, many businesses have installed temporary or semi-permanent tents to provide outdoor seating options for customers and event guests.  Almost all of these tents look-alike–gray, metal structures covered with dirty white canvas featuring semi-transparent squared windows meant to provide a more cozy atmosphere.  While functional, these tents have surpassed their lifespan, and most are in need of repair and severe cleaning–definitely not the atmosphere you want for your customers.
What other options are available?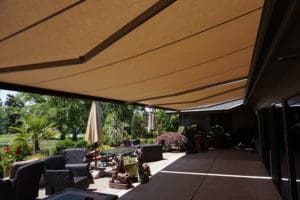 A simple way to add additional outdoor functionality to your business is with retractable awnings.  These can be installed on the exterior of your business to create protected seating on a back patio or veranda.  Retractable awnings can be extended and retracted as the weather dictates, allowing your customers to enjoy shaded seating when the sun's rays are intense and dinner under the stars on warm summer evenings.
Another solution that works well for various settings is a retractable awning on a pergola structure.  Deluxe Awning Company can install pergolas around decks and patio areas that are not connected to your business's exterior.  From patios overlooking row upon row of vineyards to outdoor alters with staging for wedding parties, pergolas with retractable awnings are decorative, beautiful, and highly functional.
What's important for choosing the right retractable awning for my business?
When investing in your business, you need to purchase quality materials from a dependable company you can trust.  Deluxe Awning Company has provided fixed and retractable awning solutions for residential and business customers in Southern Oregon since 1982.  Our success stems from our philosophy of providing customized design services to our clients and constructing durable structures with high-quality fabrics that will give our customers decades of satisfaction.
If you're looking for an affordable, quality solution to differentiate your company from the competition, contact our team at Deluxe Awning Company.  Let us get started on your project today!