Having a beautiful outdoor living space where you can enjoy the warm summer evenings and brisk autumn mornings is a benefit many Southern Oregon homeowners enjoy.  About 75% of homes have a deck, and many of those are more than twenty years old.  The average lifespan of a deck is somewhere between ten and fifteen years.  
Before the weather turns and the rains begin, it's an excellent time to perform an easy inspection and decide if your deck needs repairs or replacement.  A problematic deck can result in injuries or death.  Investing some money now can keep your family safe for years to come.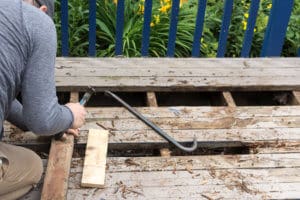 At the same time, consider how much better you would enjoy relaxing on it with a beautiful retractable awning shielding you from the rays of the sun.  Deluxe Awning Company will design an awning to perfectly complement your deck and give you the outdoor living experience your family deserves.
Five areas to inspect to determine if your deck needs repairs:
Loose nails.

 Nails will become loose in wooden decks over time as water and drying cause the wood to expand and contract.  The nail heads will begin rising above the surface of the wood and may become crooked.  As a result, rails, stairs, and ledges can become wobbly and loose. 

Corrosion.

 Contractors and homeowners didn't always build decks with quality screws and nails.  Check for corroded materials.  They will exhibit rust and discolor the wood surrounding them.  This is a sign that they no longer have their original strength and should be replaced.

Wood rot.

  Wood that becomes wet can rot over time.  While good decks are made with pre-treated lumber resistant to rotting, sometimes only the structure is built with it while the planks are untreated.  Rotting wood will look green or black and can be soft to the touch. If you can easily penetrate the wood up to a ¼ of an inch with a screwdriver, the wood has decayed and should be replaced.

Cracks.

  Wood can crack, and it loses its strength and stability when it does.  Look for cracks in both the decking and the structure.  Sometimes you can brace wood to fix the cracking, while other times, it will require replacing.  Also, look for cracks in the foundation pillars.

A variety of connections.

  A good deck should be built with a combination of nails, screws, and other metal connectors.  If you only see nails, your deck may not be as stable as it should be.  Take a good look at the ledger board that attaches the deck to the house.  It should have lag screws (they look like bolts) to ensure it stays in place, not just nails or regular screws.
Want to see how an awning will make your space even more enjoyable?
Retractable awnings are beautiful and functional.  With the flip of a switch, homeowners can enjoy an evening under the stars or sit outside during a light rainstorm.  With retractable awnings, you get the best of both worlds–avoiding the sun and heat during the summer while allowing the sun to stream into your windows as the temperatures cool down.
Plus, today's retractable awnings come in a wide variety of fabrics to match the exterior look and feel of your home.  At Deluxe Awning, we custom-produce all of our awnings using high-quality fabric that will stand the test of time.
Adding a retractable awning to your home is easy–all you have to do is give us a call at 541-488-1575.  Our experienced team members will visit your home or business to help you decide on the right awning for your needs.  Professional installers will ensure your awning is attached to your home securely, so you'll be able to sit back and enjoy the outdoors for years to come.  You'll wonder why you've waited so long.