Once you've decided you could use some additional shade or protection from the rain outside, your next decision is whether or not you should purchase a stationary or a retractable awning.  Retractable awnings have been around for decades, yet many homeowners aren't aware of all the benefits that come with today's models.
Simple to use.
Retractable awnings are easy for everyone to use.  It's simple to extend coverage over the deck or patio with a click of a switch.  This is particularly helpful for older homeowners, those who suffer from neck and back pain, disabled individuals, and children.  There's no burden involved with extending the awning out or retracting it back later on.
Long-lasting.
Because homeowners can retract them so easily, there's no reason for them to be exposed to harsh weather conditions that can tear or damage other types of awnings.  If the winds pick up or snowfall is on the way, simply pull in the awning to keep it safe.  Fabrics receive less exposure to UV rays than stationary canopies, so they will look colorful and brilliant for much longer.  While any fabric awning will need to be replaced at some point, retractable awning fabric will last for decades.
More enjoyment.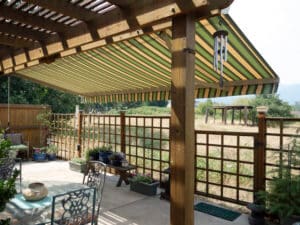 Retractable awnings allow homeowners to easily choose whether or not they want to be under a cover.  It's easy to enjoy breakfast under blue skies, add shade during the hottest parts of the day, and then retract the cover to gaze at the stars in the evening.  Retractable awnings make it easy to adjust quickly for the many activities enjoyed in the outdoors.
Less maintenance.
Stationary awnings require ongoing maintenance.  For example, most awnings must be swept free of debris and spiders or other pests routinely throughout the year and cleaned thoroughly at least annually.  Retractable awnings are built of sturdy mechanical equipment, and because the fabric is pulled into the unit regularly, the covering does not need to be cleaned often.
Simple to purchase.
To learn how easy it is to select a retractable awning for installation on your home, give Deluxe Awning Company a call today.  We're a small family business that's been serving Southern Oregon for 39 years.  We specialize in quality custom canvas awnings for homes and businesses, and we're confident you'll be wildly satisfied with the workmanship behind your new Deluxe Awning.  Contact us today to learn how easy it is to add an awning to your doors and windows.