Whether you choose a retractable or fixed awning, having a covered deck or patio provides extra living space for you, your family, and your friends.  Of course, you'll want to design your space with the right patio furniture for your needs, but then it's time to consider creating the perfect ambiance for rest and relaxation.  One addition many homeowners add to their covered living space is container gardening.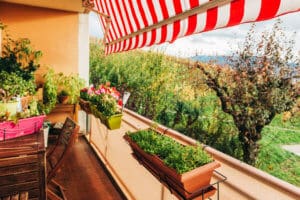 Container gardening works well for decks and patios because the pots can be moved as needed to get enough sunlight or rainfall and then placed strategically to decorate for a dinner party or backyard gathering.  It can also be easier to maintain the plants since they are higher off the ground and easier to reach.  By using a few tips for container gardening, you can easily add attractive plants under your awning to enhance your outdoor living space.
Eight Tips for Container Gardening Under Your Awning
Plan for drainage.

 Because the soil is in a closed environment (the pot or container), good drainage is critical.  Contrary to the old gardening myth, placing gravel in the bottom of the container is not enough.  You need to make sure there are several holes in the bottom of the container and that the water has room to escape.  Holes need to be between a half inch and a full inch in diameter.

Consider sunlight.

  All plants require different amounts of sunlight.  Read the tag that comes with your plants, and make sure they are set in a place appropriate for the amount of sunlight they will receive.  If you have a retractable awning, you will have more flexibility since you can open and close the awning as needed for your plants.

Get fertilizer.

 Most types of potting soil have few if any nutrients in them.  Check your landscape supply store for plant food and fertilizer designed for potted plants.  

Make a plan.

 Before heading to your favorite plant store, plan for the type of flowers or shrubs you want for your living space.  It's easy to get carried away and purchase plants that don't look good together or take wildly different kinds of care.  With a good plan in place, it will also be easier to ensure you purchase all the pots and supplies needed for your garden.

Save your tags.

  Develop a system to retain all those plastic tags from your plants.  Whether you tape them to pages in a notebook or throw them all in a manilla envelope, you'll want to be able to find them later on if you have questions.

Use bigger pots and more soil.

  Plants need water and nutrients stored in the dirt for survival.  The more soil you use, the easier it will be to keep the plant moist and nourished.  While some gardeners will cheat by filling the bottom of a large pot with packing peanuts, filling that room with soil is much better for your plants.

Tend to dying plants.

 Don't get frustrated; it's natural for some plants to begin to die despite your best efforts.  Often you can cut the plants back, give them some food and water, and they will start to come back to life.  However, chalk it up to experience and try a different plant if they don't.  

Pick plants that make you happy.

  Don't buy plants because they look fancy or are trendy in your neighborhood.  Ask the plant store employees all your questions about care and feeding, and then purchase plants that make you feel good and that you are confident you can care for.  This is all about your space, not keeping up with the Joneses.  
You'll find the perfect solutions for your outdoor living space dreams at Deluxe Awning Company.
At Deluxe Awning Company, we help homeowners create their ultimate outdoor living spaces with superior solutions for retractable screens, awnings, and more.  Our team will work with you to evaluate your space, understand your goals, and discuss the options that will be best for you.
We're a small family business serving Southern Oregon for 39 years.  We specialize in quality custom canvas awnings for homes and businesses, and we're confident you'll be wildly satisfied with the workmanship behind your new Deluxe Awning.  Contact us today to learn how easy adding a retractable screen or awning to your doors, windows, or patio is.