Awnings are a great way to add shade and rain protection to your home or business.  With minimal construction required, adding an awning is a practical and economical solution to protect you and your home from sun, wind, and rain.  There are several types to choose from based on your specific needs and stylistic desires.
Fixed or Stationary Awnings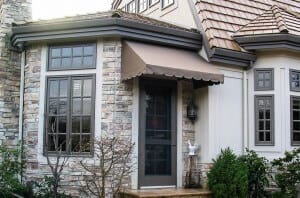 A fixed awning is a permanent structure affixed to the exterior of your home or business.  The structure itself is comprised of steel or aluminum tubing.  These materials make it easy for the manufacturer to create a design that matches your existing structure or to become a focal point of the building.  The frame can be powder coated to increase its durability as well as add to its appearance.  Most fixed awnings are covered with strong, canvas material.
Fixed awnings can provide the benefit of covering a larger area such as a walkway or large deck.  Construction is very sturdy, allowing them to withstand weather variations of every season.
Retractable Awnings
Retractable awnings are a popular choice for homeowners because they are relatively easy to install, easy to operate and provide flexibility for sun or shade on demand.  This is a great solution for locations prone to windy conditions since they can be raised or lowered easily to avoid being ripped up by wind gusts. Some models operate manually while others feature electronic switches, remote controls, and even automatic sensors to open or close based on sunlight or wind.  Small sizes protect windows and doorways while larger models can cover wide decks and living spaces.
Pergola Covers and Fixed Shades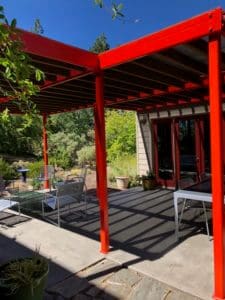 To add artistic flair to your backyard or business, a pergola cover can be designed to complement the overall look of the location.  Today's solutions are constructed of durable materials that require little to no annual maintenance such as aluminum and steel.  Typically the "roof" of the structure is covered with a mesh canvas material that blocks out sun and rain while still having a light and airy feel.
Pergola covers make it easy and beautiful to provide protection over areas not attached to the main building—for example, a dining area outside of a restaurant or a hot tub in the backyard.
Solar Screens
Solar screens are different from other awnings because they don't create additional living space.  Instead, they are affixed to the building to protect the interior from excessive sun exposure.  For homes located in areas of intense sunlight and heat, solar screens are an effective way to keep the interior heat down and control cooling expenses.  Some models require manual installation and removal while others include mechanisms to raise and lower the shades.
Ready to Add an Awning to Your Home or Business?
It's easy to get started.  Simply contact the experts at Deluxe Awning Company and we'll walk you through the entire process.  As a small family business that's been in operation since 1982, we're committed to providing you with individualized service to design the perfect custom awning for your location.  Competitive prices, personal service, and custom construction all come together to make your outdoors the living space of your dreams.