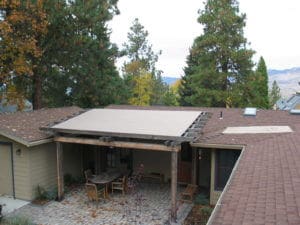 Creating outdoor living spaces extend the enjoyment of your home and provide areas of peaceful tranquility for you and your family to relax and unwind. It's common for homeowners to go beyond traditional back patio sitting areas to build outdoor kitchens, dining areas, covered hot tubs, and middle-of-the-yard relaxation zones.  In fact, the opportunities for homeowners to design outdoor living spaces are just as great as decorating the rooms inside.
One of the fundamental choices homeowners make with outdoor spaces is to decide if they should be covered and how.  A fixed or retractable awning allows homeowners to enjoy the outdoors in all types of weather and is also crucial for protecting outdoor furniture, decking material, and equipment like smokers and barbecues.
To choose between a fixed or retractable awning, consider your local climate and how you plan to use the area.  Each type of awning has its own set of benefits and limitations, and our team at Deluxe Awning Company can help you decide what's best for you.
What's the weather like today?
Fixed and retractable awnings provide equal protection in sunny conditions, although retractable units allow you to enjoy more light when the sun's rays are more moderate.  In the winter, however, there's a big contrast between the two units.
Heavy rainfall and snow can put significant wear and tear on fixed awnings.  The weight of snow can cause very large fixed awnings to bend or crack, especially if constructed from subpar materials.  High winds can also bend frames or rip the fabric.  If you're in a region that experiences these harsh conditions, you will likely benefit from using retractable awnings that can be pulled in as the weather changes or when not in use.
How do you enjoy the outdoors?
Fixed and retractable awnings are both very effective in creating enjoyable outdoor environments, but one of the two may be preferable to you, depending on your activities.  If you consistently desire to relax away from the sun's rays, there are many styles of permanent awnings that will create a beautiful feature to your yard and give you the permanent protection you desire.
However, if you prefer being exposed to the sun during moderate weather and only want protection during extreme sun or rain, then a retractable option may be what you need.  With a retractable awning, you can enjoy an open horizon during the morning, extend it for additional shade during the heat of the day, and then retract it to look for shooting stars at night.
Location isn't a limiting factor for choosing a fixed or retractable awning
When most people think about retractable awnings, they consider wide awnings extending over a back deck.  It's true that those are very common and provide great functionality to homeowners.  However, this image should not limit your design.
Today's modern retractable awnings are available as stand-alone features, too.  For example, a canvas, retractable awning can be built over a mid-yard feature like a hot tub, so bathers can enjoy the tub while it's raining or under a blanket of stars.
Deluxe Awning is your home for the highest quality fixed or retractable awning
Regardless of the type of awning you decide upon, you'll find styles, colors, and fabrics available to compliment your home and personality.  What's most important is that you select a vendor who uses only quality materials and will stand behind their craftsmanship, like Deluxe Awning Company.
We're a small family business that's been serving Southern Oregon for 39 years.  We specialize in quality custom canvas awnings for homes and businesses, and we're confident you'll be wildly satisfied with the workmanship behind your new Deluxe Awning.  Contact us today to learn how easy it is to add an awning to your doors and windows.