A quality window awning does much more than creating curb appeal; they are incredibly effective in helping control indoor temperatures.  According to the Department of Energy, heating and cooling expenses account for 48% of home energy consumption.
Many Americans use window shades to keep UV radiation and the sun's heating rays from penetrating a home's interior.  The problem with this technique is that the sun still hits the window's exterior and the surrounding wall area.  The heat is absorbed in the glass, frame, and surrounding wall, and then that heat warms the interior temperature of the home.
That's where window awnings make a big difference.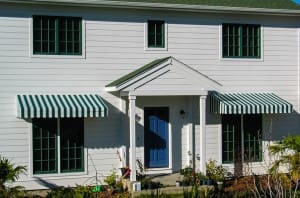 In contrast to window coverings, window awnings stop light and heat from making contact with vulnerable areas of the home's exterior.  The window awning absorbs the sun's rays and heat–keeping it away from the surface of the house.  Because there is consistent shade outside the window, your home's interior will be less impacted by hot weather outdoors.
Retractable awnings can have an even more significant impact on controlling the indoor temperature of the home.  Because they cover larger areas such as over a patio or extending the width of the house, the windows, patio doors, and walls are all protected from the sun's rays.
The Professional Awning Manufacturers Association studied the impact awnings have on heating and cooling expenses.  They found awnings reduced heat gain by 15 degrees.  As a result, the need for air conditioning lessened by up to 77% and reduced electricity bills up to 36%.
Get Ready for the Summer Heat.
If you're looking for an affordable method to reduce utility costs and increase the enjoyment of your home, consider adding window awnings or a fully retractable awning.  At Deluxe Awning Company, our team makes planning and installing awnings simple.  We'll visit your home, take measurements, and review the options with you so you can choose the perfect awning for your family's needs.  Contact us today and learn how easy it is to get started.