Just because you're relaxing inside your air-conditioned home doesn't mean you're safe from the harmful effects of the sun's rays.  Extreme heat is only one side effect of the summer months when the sun is closer to the Earth.  When bright sunshine streams through your home's windows, it can cause damage to you, your home, and your belongings.
What are UV rays?
UV or UltraViolet radiation streams from the sun naturally and is strongest between 10 AM and 4 PM.  Other light sources such as tanning beds, fluorescent and incandescent lights, lasers, and even computer and mobile phone screens emit UV radiation.  There are two primary types of UV radiation to be concerned about:  UVA and UVB.
UVA radiation is the weaker of the two but makes up the majority of UV radiation.  Consistent exposure to UVA radiation (even at low levels) accelerates our skin's aging process and contributes to skin cancer.
UVB radiation has powerful strength.  Overexposure to UVB rays causes sunburn and skin cancer.
Can UV rays travel through windows?
Yes.  Most modern double-paned and triple-paned windows include filtration to block some radiation, especially UVB rays.  However, more than 50% of UVA rays travel through glass and can impact anything within several feet of the window.
UV rays are powerful enough to damage the interior of your home.  Prolonged exposure to UVA rays can fade furniture, rugs, upholstery, and hung photographs.  Intense rays can even crack paint and wallpaper.  If you usually work at a desk or enjoy relaxing in a comfortable recliner near a sunny window, those rays of light are slowly creating wear and tear on your body, too.
How can you keep UV rays out of your home?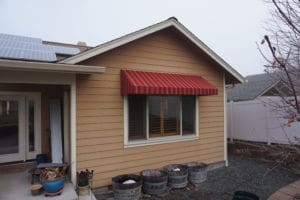 Nothing will completely stop UV rays from entering your home, but it is true that window awnings protect against sun damage.  Window and door awnings not only create cooling shade and provide rain protection, but they are instrumental in keeping UV rays from penetrating windows.  Window awnings have been shown to block up to 98% of UV rays from the sun.
Of course, keeping the sun outside makes keeping indoor temperatures cool easier, too.  Some homeowners have experienced up to a 20% reduction in utility costs after installing window awnings.  With summer temperatures reaching 100 F or more, every bit of shade helps.
Enjoying the benefits of a window awning starts with a call to Deluxe Awnings.
If you're looking for an affordable method to reduce utility costs and increase the enjoyment of your home, consider adding window awnings or a fully retractable awning.  At Deluxe Awning Company, our team makes planning and installing awnings simple.  We'll visit your home, take measurements, and review the options with you so you can choose the perfect awning for your family's needs.  Contact us today and learn how easy it is to get started.