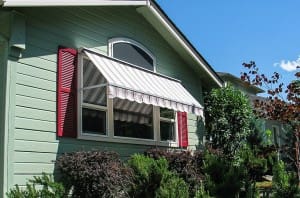 Adding a permanent or retractable awning to your home is a great way to increase your livable outdoor space and protect your home from the elements.  Whether your awning will cover a deck or patio, or you're adding awnings over windows and doors, one of your first challenges may be selecting the right color fabric to complement your home and personal style.
Here are a few helpful hints to decide what color awning to choose:
The color you choose will likely depend on the type of awning you're installing.  For permanent awnings over doors and windows, most homeowners will select a different or darker color than the home's primary color.  A color that complements the trim works well, and usually, solids or broad stripes look best.  However, most owners prefer fabrics with more decorative patterns, perhaps something that matches their outdoor furniture and decor for a retractable awning.
Some homeowners prefer to choose a color based on the style of their home. 
Traditional: forest green, navy blue, and neutrals like black, white, and grey.
Colonial: Reds greens, dark blues, and bold colors with accent stripes.
Contemporary: Brighter yellows, blues, reds, and oranges.
Cottages: white, black, dark blue, and dark grey.
Southwestern: Beige, corals, salmon, and light green
Some colors are more likely to fade than others.  Red tones tend to fade faster than other colors, while light colors like yellow, pale blue, and light green will show fading less.  Regardless of the color, choose a high-quality fabric that is constructed to resist UV rays and fading.
If your home is exposed to mildew or mold, some colors will hide stains more easily.  Of course, you should routinely clean and maintain your awnings to remove mold and mildew, but mold and mildew are inevitable in some parts of the country.  Darker colors, especially black, will hide stains, including mold and mildew, better between cleanings.
If you're not sure what color to choose, don't worry!  Our design team can help!
Choosing the right style and color for your home's awning can be daunting.  Our design team at Deluxe Awning has 39 years of experience providing homes and commercial buildings with awnings to enhance the look and feel of the structure and the environment.  We specialize in quality custom canvas awnings for homes and businesses, and we're confident you'll be wildly satisfied with the workmanship behind your new Deluxe Awning.  Contact us today to learn how easy it is to add an awning to your doors and windows.