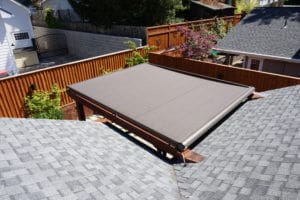 You know you want to upgrade your deck or patio to create a fabulous outdoor living retreat, but what kind of awning should you choose.  Both fixed and retractable awnings offer protection from the elements, but each comes with pros and cons.  Here are a couple of considerations to help you decide which is best for your home:
Are you looking for complete or partial protection?  Fixed awnings come in various shapes and styles, allowing homeowners to enjoy full coverage from sun, rain, and snow or to create partial shade to cool temperatures without eliminating the sun's rays from coming through.  On the other hand, retractable shades feature a solid fabric covering, so your guests will be fully protected from the elements when they are in use.
Do you want the covering to always be there?  Many homeowners first consider a fixed shell, but upon further consideration, find that there are times they want to enjoy the star-filled sky or allow sunlight to penetrate the windows.  In that case, a retractable awning provides the greatest flexibility as it can be extended only when desired.
How will climate conditions affect the awning?  All styles of awnings can be used in a variety of weather conditions.  Fixed awnings, however, are better suited for use in heavy snowfall or windy conditions.  If you want an area to be protected during extreme weather conditions, a fixed awning may provide extra strength and durability for the job.
How large is the area?  While there are models of both fixed and retractable awnings for all types of spaces, the coverage size may impact the best kind of awning for your space.  For most practical purposes, the largest retractable awnings have a maximum width of about 35 feet with a projection span of 14 feet.  On the other hand, fixed awnings can be custom built to fit almost any dimension.
Do you have flower beds or potted plants on your deck or patio?  If your outdoor space includes natural elements like flowers or shrubs, a retractable awning allows you to expose the plants to sunlight while your area isn't in use.  If the summer sun's heat normally burns plants, it can also be extended to protect them during the hottest portions of the day while allowing them to soak up rays in the early morning or evening hours.
Deluxe Awning is your home for the highest quality fixed or retractable awning for your home.
Regardless of the type of awning you decide upon, you'll find styles, colors, and fabrics available to compliment your home and personality.  What's most important is that you select a vendor who uses only quality materials and will stand behind their craftsmanship, like Deluxe Awning Company.
We're a small family business serving Southern Oregon for 39 years.  We specialize in quality custom canvas awnings for homes and businesses, and we're confident you'll be wildly satisfied with the workmanship behind your new Deluxe Awning.  Contact us today to learn how easy it is to add an awning to your doors and windows.